Sneak Peek!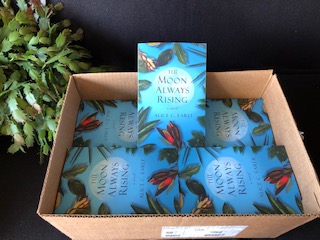 For months, years, I've been anticipating the pub date for The Moon Always Rising, when my book will finally be in the hands of those who pre-ordered copies and its presence in bookstores and libraries will make it "real." But we're in a COVID-19 world. Amazon has notified customers for the paperbound book that it is devoting all available capacity to more critical shipments and will send books "as soon as possible" with no promises. I hope the e-books will be sent as scheduled.

If you ordered the paperbound book from Amazon and don't want to wait, I'd appreciate it if you didn't cancel that order on the off chance my Amazon sales amount to anything (and with all your help, they might!). You can order a second copy through an independent bookstore by using the INDIE button on this site. Or order through my local bookstore, Bunch of Grapes (https://bunchofgrapes.indielite.org/). Once you've received your indie copy, you can either cancel the Amazon order or give the second copy to a friend or book club colleague, or your local library.

I'm sad that you might have to wait longer for MOON, if only because advance readers have called it a great escape read. It would mean so much to me to provide you a respite from the relentless, scary, heartbreaking, and infuriating news.

Since commerce of all sorts is disrupted these days, I'm sharing a sneak peek of The Moon Always Rising for you to enjoy while you're waiting. To read Chapter One, follow this link: https://aliceearly.com/images/aliceearly/site/contents/The-Moon-Always-Rising-Chapter-1.pdf.
I'd planned some fun parties and events to be able to thank you in person for encouraging me throughout my writing and publishing odyssey. With those events on hold and the odyssey becoming weirder by the week, just know that I can't thank you enough for caring about me and MOON.
Please be well and be in touch. I love hearing from you.
Stay healthy, sane, cheerful, connected, and kind. Most of all, stay separate until we can all safely gather again.