Winter Solstice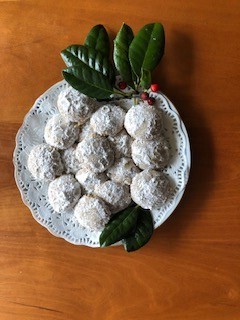 T
Today I fired up the oven to crank out the holiday cookies—varieties I make at no other time of year. The aromas of spices, toasty nuts, chocolate, and warm sugar are as critical to getting my head into the season as early darkness and the scent of fresh greens on the mantle.

I always bake nut balls at this time of year. The origin of the recipe is a mystery. As you can see, my scribbled notes depend on rote memory to fill in the gaps.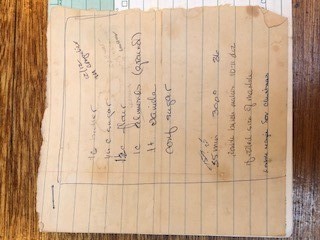 By about age eleven, I was already a dab hand at chocolate chip cookies and decided to branch out for Christmas. By then I had aspirations in the kitchen, later to attain full blown foodie home cook proportions, but that's another story. The recipe is dead simple—butter, a little sugar, flour, ground nuts (I use pecans), rolled by hand into walnut-sized spheres, baked in dainty mounds, and tossed in confectioner's sugar. The first attempt was a howling success with my family, none more than my brother John. Three years older than I, he was a lanky teenager back then, able to pop a dozen powdery balls into his mouth in quick succession before I could stop him.

After that first year, the cookies became a must-bake for the holidays. No matter where I was, and no matter what other holiday goodies I might make, I'd turn out tray after tray of nut balls. As December 1969 approached and John was in California in training for a Peace Corps assignment in India, I was bereft that he couldn't come home for Christmas. The least I could do was be sure he had his supply of nut balls.

But, I was in college, living in a dorm, and not due home in time to bake and ship the box. Before the age of overnight shipping, gift packages traveling any distance needed weeks to reach their destinations. It turned out the college had a tiny kitchen students could use by appointment. A call to my mother for the recipe and a hike to the grocery store for the few ingredients, and I went into bake-a-thon.

During the process, my German professor ambled in, lured by the enticing aroma. He said it smelled like home. Since I wasn't doing well in German (mostly for lack of application) and hoped to ingratiate myself, I offered him some cookies. He was worse than my brother at serial consumption. As I watched in mute horror he consumed fully half of what I'd baked. There would be none for my friends; the remainder of the batch would go to John.

I never tried shipping cookies to India, knowing they'd be greasy dust on arrival. But I made sure John got at least his share of nut balls every year since his return.

John died this September. As I was assembling my grocery list for cookie baking, it hit me that he won't sneak nut balls as soon as I finish them. He won't have powdered sugar in his beard or the mischievous twinkle in his eye he always got when intentionally annoying me. Even if I bake a lot fewer cookies this year, there will still be too many because John won't have gotten his share.

For any of you who are missing loved ones who can't come home this holiday, or will never come home again, I'll be baking for you, and for them. Holiday baking has always been an act of love and sharing for me. So, from my kitchen to yours on this dark night, I send you warm Solstice wishes and a (virtual) plate of nut balls.

This Winter Solstice is like no other. The world turns. The light is building.